Ah, winter. What a time of year up here at Stratton Mountain. Even when the lifts stop spinning for the day, Stratton lights up with activities and things to do off the slopes.
One of our favorite seasonal activities is ice skating at the Mill House. There is just something special about outdoor skating rinks. The winter ambiance is hard to beat, gliding around the ice with friends, enjoying the bounty of the winter season.
When going ice skating, follow these simple tips and tricks to ensure success on the pond.
All Ice Skating Reservations must be made online and in advance this season. Visit our website to book your session today.
It's All About the Socks
Happy feet are the key to almost every activity on the mountain. Tall socks, higher than the skate's boot is key to ice skating. Good socks help to protect your ankles, keep you warm, and allow you to get a better fit in your ice skates. We love to wear Smartwool socks when skating. Not only is the height on their socks perfect, above the skate but below the knee, but they are also made of merino wool. Merino wool is an active fiber that releases heat when you're warm and retains heat when you're cold. This is the perfect blend of material when skating outdoors. Stay warm, stay comfortable, stay happy. It's as simple as that.
Lace 'em Right, Lace 'em Tight!
As someone who played hockey for their entire life, I will be the first to say that a great sock and a well-tied skate the two biggest tricks when hitting the ice. You want the top of the skate to be tight, but not constricting, around your ankle. This will give you better balance, and control over the skate blade. A well-tied skate allows the skate to move in conjunction with your foot, not independently or at an angle.
A Long Stride, then Glide
When ice skating, all too often you see skaters looking like they are running in place, or tip-toeing around the ice. This gives you a small foundation on the ice and does not promote good balance, or a good stride. With your feet about shoulder-width apart, think of your body as a clock. You want knees bent, with both of your big toes, parallel to one another, and pointing towards the 12. As you go to push off, think about moving your right foot back to the 4 or 5 on the clock, back and out in the same motion. Make this a long stride, as you balance over your left foot, and glide forward on that skate. Return to 12 and 12 as you glide, and push your left foot back to the 7 or 8 on a clock, again out and back, and glide over your right foot. Keep this motion going and start slow. The longer stride backward, the better. Before you know it you're skating with great form, smooth long even strides.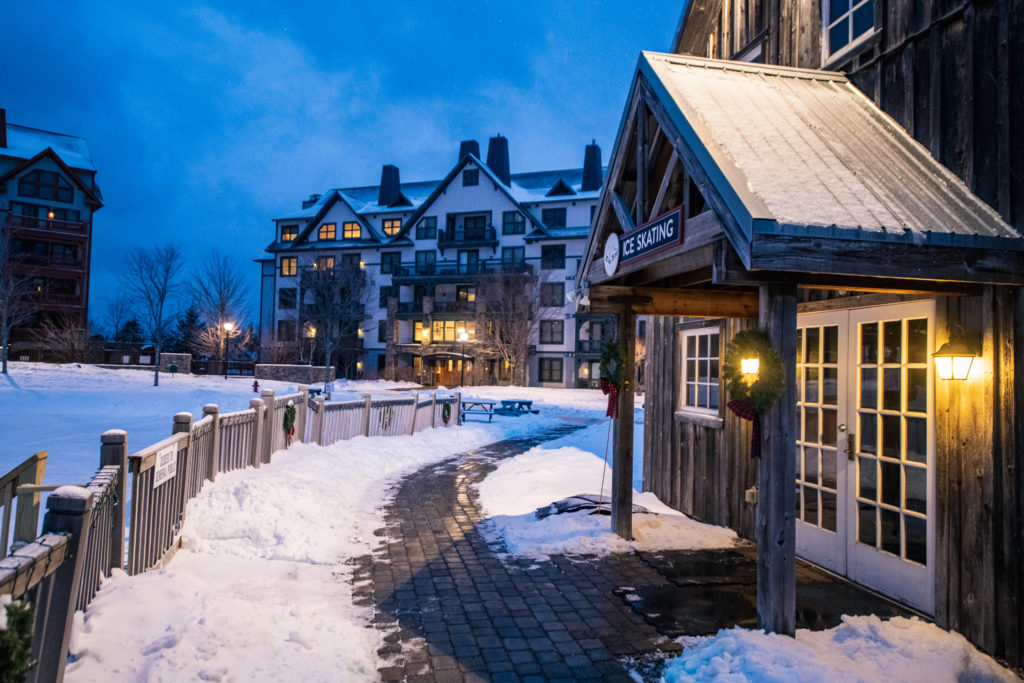 Layer for Warmth
Dress warm, after all, you're going to be hanging out on a giant block of ice. Ice skating at the Mill House is awesome, as there is a fire pit, music, and lights surrounding the pond. This makes taking a quick break to shed or add a layer easy. A long sleeve shirt, a hoodie, and insulated jacket, then a shell or winter jacket makes for one of the best layering systems. Getting warm? Drop a layer. Cold? Add one back on. Layers are the key to warmth, as they are easily adjustable. Smartwool has some great options for merino wool base layers and socks available at First Run in the Village. As opposed to wearing one large jacket that either has to be on or off depending on your temperature, layers can be easily configured to get your body at the ideal temperature for conditions and activity levels. Next, be sure your ears, neck, and face will be warm as your skate around with a hood, hat, scarf, or face mask. And finally, a good pair of gloves or mittens, my personal choice, make for warm hands in case you have to put them down to catch yourself.
All Ice Skating Reservations must be made online and in advance this season. Visit our website to book your session today.
Thanks for keeping our feet happy on and off the mountain Smartwool!